Andrew Yang, M.D.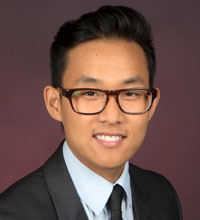 Hand and Upper Extremity Surgeon, Orthopedic Surgery
Dr. Yang has been serving the New York City communities, from Brooklyn to Queens, since starting his orthopaedic residency at State University of New York in Brooklyn. Prior to residency, he obtained his medical degree at Loma Linda University in Southern California and was accepted into the prestigious AOA Honors Society for excellence during his education. After residency, he completed a fellowship in hand and upper extremity surgery at the internationally renowned Rothman Orthopedic Institute in Philadelphia, where he was able to gain experience in treating professional athletes. Dr. Yang brings his diverse clinical experiences to tailor and personalize the best possible care for his patients. He has had extensive experience treating various musculoskeletal conditions, with a specific focus on pathologies of the shoulder, elbow, and hand. Dr. Yang specializes in using local anesthesia and minimally invasive techniques to help maximize patient comfort and minimize the time to recovery. He believes that the best outcomes are achieved when care is individualized to each person and considers each patient an important member in designing their treatment approach. Dr. Yang stays ahead of the latest technology and techniques to be able to provide the best possible care to all his patients.
Education
Fellowship
Hand and Upper Extremity
Rothman Orthopedic Center
Thomas Jefferson University
Philadelphia, PA
Residency
Orthopedic Surgery
State University New York, Downstate Medical Center
Brooklyn, NY
Medical School
Doctor of Medicine (M.D.)
Loma Linda University
Loma Linda, CA
Professional Memberships & Awards
2015- Present : American Society for Surgery of the Hand
2015- Present : American Academy of Orthopedic Surgeons
2015- Present : Brooklyn Orthopedic Society
2014 : Alpha Omega Alpha Medical Honor Society
2012 : Macpherson Research Scholarship for Orthopedic Surgery Research
Publications
Hayden AJ, Shah NV, Stroud SG, Penny GS, Burekhovich SA, Shah AT, Kuehn E, Yang A, Diebo BG, Koehler SM. Characterizing Hand Infections in an Underserved Population: The Role of Diabetic Status in Choice of Antibiotics and Location of Infection. J Hand Microsurgery. 2020 Apr;12(1):13-18. Doi. 10.1055/s-0039-1692323. Epub 2019 Jun 26. PMID: 32280176
Newman JM, Coste M, Dua K, Yang A, Cautela FS, Shah NV, Patel AM, Chee A, Khlopas A, Koehler SM. The Impact of Malnutrition on Thirty-Day Postoperative Complications Following Surgical Fixation of Distal Radius Fractures. J Hand Microsurg. Epub 2020/01/16. doi: 10.1055/s-0039-3400433.
Trouw AG, Mulchandani NB, Kelly JJ, Eldib AM, Shah NV, Banning GK, Chatterjee D, Scollan JP, Yang A, Kapadia BH, Diebo BG, Illical EM, Urban WP. First Place Award: A radiographic analysis of closed reduction and casting of distal radial fractures with consideration of candidacy. Current Orthopaedic Practice. 2019;30(4):289-95. doi: 10.1097/bco.0000000000000779. PubMed PMID: 01337441- 201907000-00001.
Kapadia BH, Torre BB, Ullman N, Yang A, Harb MA, Grieco PW, Newman JM, Harwin SF, Maheshwari AV. Reducing perioperative blood loss with antifibrinolytics and antifibrinolytic-like agents for patients undergoing total hip and total knee arthroplasty. J Orthop. 2019;16(6):513-6. doi: 10.1016/j.jor.2019.06.025. PubMed PMID: 31680743.
Newman JM, Stroud SG, Yang A, Sodhi N, Dixit A, Doran JP, Hayden AJ, Casagrande DJ, Mont MA. Total Shoulder Arthroplasty in Octogenarians: Is There a Higher Risk of Adverse Outcomes? J Orthop. 2018 May 8;15(2):671-675. doi: 10.1016/j.jor.2018.05.035. eCollection 2018 Jun. PMID: 29881218.
Trouw AG, Patel A, Yang A, Jauregui J, Caligiuri D, Choueka J. Improvement in Sleep Quality After Carpal Tunnel Release. J Long Term Eff Med Implants. 2018;28(1):55-61. doi: 10.1615/JLongTermEffMedImplants.2018020617. PMID: 29772994.