Phay (Huy) Huynh, MS, PA-C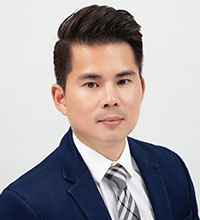 Phay Huynh is a board-certified licensed physician assistant specializing in Orthopedics Hand & Upper Extremity. Phay is originally from the Bay Area, California. Prior to beginning his professional career, he studied Biology and Asian American and Asian Diaspora Studies at University of California, Berkeley. After completing his Bachelor's degree, Phay continued his education at Touro College School of Health Sciences where he received his Master's degree in Physician Assistant Studies.
After becoming a board-certified physician assistant, Phay began his career as an Orthopedic Hand & Upper Extremity PA when he joined New York Hand Surgery in 2019. He works alongside Dr. Vipul Patel assisting in a wide variety of nonsurgical and surgical procedures to treat: general orthopedic conditions, fractures of the elbow, forearm, wrist and hand; arthritis of the wrist, thumb and fingers; flexor and extensor tendon injuries; chronic and acute wrist pain and tendonitis problems; nerve lacerations and compression syndromes (cubital, carpal tunnel); tumors, and infections and reconstruction of arthritic conditions.
Phay is committed to providing compassionate and high quality patient care to improve his patients' conditions and overall well-being. In addition to English, Phay speaks fluent Vietnamese and has a passion for aesthetics.